Latest News
This website was launched on October 11, 2014. Updates are below!
2017
November 2017
So far, about 400 seeds have been fall-planted, in protective boxes to prevent slugs from eating them! Hopefully, many will germinate for lots of new plants in the spring!
October 2017
In 2017, the website was revamped and all individual plant pages were finished with a link to each one. Many additional images were added to each species of leaves, seeds, seedpods and stems. A black soil prairie, sand prairie, pond and southwest area were all added to the ranch. Probably we will discontinue frequent individual updates here, in favor of broader updates during or at the end of the year. Which plants have been added to the gardens can be seen on the A - Z plant list page.
2016
August 2016
Planted Trillium discolor Trillium underwoodii Trillium decumbens Packera aurea Packera anonyma Viola hirsutula Hybanthus concolor
The ranch has now moved to its new and permanent location! The creation of new gardens and the moving of pieces of wildflowers from their old locations has commenced! Stay tuned for many updates!
May 2016
Planted Penstemon pallidus Geum aleppicum Opuntia fragilis Apios americana
2015
June 2015
Added plants of Gaillardia aristata Rudbeckia triloba Agastache scrophulariifolia Galium boreale Desmodium canadense Rudbeckia subtomentosa Cirsium flodmanii Mentha arvensis Rudbeckia hirta Dallea villosa Glycyrrhiza lepidota Houstonia longifolia Chrysopsis mariana
May 2015
Planted Glandularia canadensis Phlox bifida Dalea gattengeri Helianthus salcifolius Clematis fremontii Thalia dealbeata Draba ramosissima Silene rotundifolia Erigeron scopulinus, Sida hermaphrodita Silene caroliniana wherryi Actaea cordifolia Aquilegia chaplinei Corydalis scouleri Calamintha arkansana Asclepias perennis Hymenocallis occidentalis Coreopsis grandiflora, Monarda didyma, Phaseolus polystachios, Scrophularia micrantha Erythronium rostratum Coreopsis integrifolia, in various areas of the yard.
Added (YP) Echinacea pallida, Echinacea simulata, Echinacea paradoxa, Erigeron scopulinus, Viola sororia, Blephilia ciliata, Monarda didyma, Phaseolus polystachios, Coreopsis grandiflora, Corydalis scouleri, Ranunculus sceleratus, Coreopsis integrifolia, Lysimachia thyrsiflora, Viola pubescens, Dalea candida, Cacalia suaveolens, Goodyera pubescens, Polygala paucifolia, Medeola virginiana, Viola macloskeyi, Mitella nuda, Viola adunca, Sibbaldiopsis tridentata, Artemisia campestris and Geranium maculatum in various areas of the yard.
Planted seedlings (YP) of: Helianthus annuus, Centrosema virginianum, Lactuca ludoviciana, Zinnia grandiflora, Lathyrus venosus and Geranium viscosissimum in various areas of the yard.
Planted seeds (YP) of: Nuttallanthus canadensis, Krigia virginica, Corydalis sempervirens, Melampyrum lineare, Polygala polygama and Trichostema dichotomum in the woodland area, by fence.
April 2015
(YP) Planted Iodanthus pinnatifidus, Ranunculus recurvatus, Phlox stolonifera, Coptis laciniata, Geum canadense, Caulophyllum thalictroides, Anemonella thalictroides, Silene stellata, Sedum ternatum, Viola conspersa, Trillium grandiflorum, Sanguinaria canadensis, Aquilegia canadensis, Clinopodium vulgare, Iliamna remota, Arabis laevigata and Viola priceana in the woodland area and Sequoiadendron giganteum in the tree farm.
March 2015
Planted seeds of the following in the sandy area: Orthocarpus luteus, Boechera canadensis, Monarda punctata, Rhinanthus crista-galli, Cynoglossum grande, Blephila hirsuta, Dasistoma macrophylla, Phlox maculata, Vicia americana, Ranunculus rhomboideus, and Lomatium dissectum.
Planted seeds of the following in the rock garden: Houstonia rubra, Phlox roemeriana, Physaria dornii, Draperia systyla, Opuntia pulchella, Lygodesmia grandiflora, Argemone hispida, and Lewisia cotyledon.
Planted seeds of Erigenia bulbosa and Dicentra uniflora in the new Woodland area.
2014
November 2014
Added Penstemon palmerii to the new rock garden.
Planted Penstemon eatonii and Linum lewisii to the woodland edge area.
Planted Marshallia grandiflora in the woodland area.
Planted Marshallia grandiflora, Zephyranthes atamasco, Hymenocallis pygmnaea and Lachnanthes caroliana in a pot together, and put inside for the winter.
Fall planted seeds of the following in... the rock garden: Talinum rugosum, Hymenoxys grandiflora, Aquilegia saximontana, Douglasia laevigata, Heuchera glabella, Draba reptans, Sedum lanceolatum, Aquilegia scopulorum, either Primula mistassinica or laurentiana, Eremogone fendleri, Gilia capitata, Aquilegia jonesii and Phemeranthus parviflorus; in the woodland area: Elephantopus tomentosus, Gilia aggregata, Erysimum wheeleri, Strophostyles leiosperma, Phacelia dubia; in the annual area: Euphorbia marginata, Eschscholzia californica, Mirabilis longiflora, Cuphea viscosissima, Phacelia tanacetifolia, Dracocephalum parviflorum.
Fall planted seeds of the following in... the 2nd area prepared for annuals and perennials: Lithospermum multiflorum, Nemophila maculata, Clarkia bottae, Monarda pectinata, Agalinis auriculata, Castilleja sessiliflora, Argemone polyanthemos, Lactuca ludoviciana, Lupinus bicolor, Mentzelia decapetala, Collinsia grandiflora, Crotalaria spectabilis, Silene nivea, Cleome lutea, Erysimum asperum, Triodanus perfoliata, Mertensia lanceolata, Mirabilis multiflora, Hackelia micrantha, Grindelia squarrosa, Erigonum ubellatum, Euphorbia cyathophora.
Fall planted seeds of the following along fence, behind the 2nd area prepared for annuals and perennials (from left to right): Ipomoaea leptophylla Clitoria mariana, Passiflora incarnata, Amphicarpaea bracteata, Adlumia fungosa.
Fall planted seeds of the following next to the woodland box area: Actaea rubifolia, Dodecatheon frenchii, Triosteum angustifolium, Asclepias quadrifolia.
In the woodland box, planted seeds of: Tiarella trifoliata, Ruellia humilis, Mitella ovalis, Silene virginica, Clarkia amoena, Agalinis tenuifolia.
In the annual area, seeds of: Polygala verticillata, Verbena bracteata, Gaura coccinea, Centaurium calycosum, Eustoma grandiflora, Linum sulcatum.
In the wet area seeds of: Pedicularis groenlandica, Lobelia cardinalis, Agalinis purpurea, Bidens frondosa, Wyethia helianthoides, Boltonia decurrens, Veronica catenata, Ligusticum canbyi, Viola nephrophylla.
In the annual/perennial seed area, planted: Desmanthus illinoensis, Nemastylis geminiflora, Asclepias ovalifolia, Ratibida pinnata, Ratibida columnifera, Ruellia strepens, Kuhnia eupatorioides, Delphinium cardinale, Penstemon pallidus, Sanguisorba annua, Hedysarum boreale, Gaura longiflora, Salvia lyrata, Glycyrrhiza lepidota, Epilobium angustifolium album, Agalinis auriculata, Schrankia uncinata.
Also planted seeds of Orogenia linearifolia, just right of and next to Marshallia grandiflora, in the woodland area.
October 2014
New plants were ordered for the rock garden, as well as some new Western trees to hold over in a temporary area.
Added Talinum calycinum to the newest rock garden.
Added Verbesina virginica, Conradina verticillata, Selaginella rupestris, Mimulus alatus, Silphium laciniatum and Hieracium gronovii to various areas of the yard.
Moved Talinum teretifolium to newest rock garden.
Planted Penstemon fruticosus in newest rock garden.
Planted Abies lasiocarpa, Abies concolor, Larix occidentalis, Abies procera, Thuja plicata, Abies grandis, Pinus monticola, Pinus sylvestris, Pseudotsujga menziesii, Abies fraserii, Picea engelmaniana, Pinus ponderosa and Betula papyrifera, in temporary tree farm.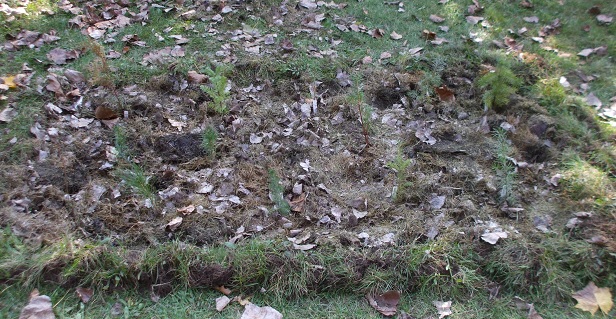 Planted Zephyranthes atamasco and Aconitum sp. (either reclinatum or columbianum) in the woodland area.
Planted Mimulus cardinalis cuttings in cups to be rooted.
Fall planted the following seeds: in the rock garden, Aquilegia laramiensis, Viola trinervata, Trifolium dasphyllum, Nama rothrockii, Primula parryi, Polemonium pulcherrimum, Aquilegia barnbeyi, Campanula scabrella, Trifolium owyheense, Nama lobbii, Claytonia megarhiza, Viola hallii, Dryas octopetala, Draba oligosperma, Campanula shetleri, Viola beckwithii, Melampodium leucanthum; in wet area: Lindernia dubia, Collinsia parviflora, Impatiens pallida, Saxifraga pensylvanica, Scutellaria lateriflora, Dicentra nevadensis; in Woodland area, Phacelia bipinnatifida, Asarum marmoratum, Adenocaulon bicolor, Paeonia brownii, Nothochelone nemorosa, Polygala senega, Cynoglossum virginianum, Collinsia verna, Lithospermum latifolium, Impatiens pallida, Streptopus amplexifolius, Hypericum hypericoides, Hydrophyllum appendiculatum; in disturbed area for annuals, Rudbeckia amplexicaulis, Nemophila menziesii, Froelichia floridana, Polansia dodecandra, Palafoxia callosa, Cosmos parviflorus, Clarkia unguiculata, Corydalis sempervirens, Cleome serrulata, Crotalaria sagittalis, Arenaria stricta, Argemone mexicana, Monarda citriodora, Thelesperma filifolium, Coreopsis tinctoria, Castilleja coccinea, Cassia fasciculata, Lupinus arizonicus, Mentzelia lindleyi, Geranium carolinianum, Myosotis laxa, Linum sulcatum, Lactuca floridana, Lotus purshiana, Orthocarpus luteus, Madia gracilis, Microseris lindleyi, Collinsia heterophylla, Solanum citrullifolium, Hackelia floribunda and Strophostyles helvola.